Get flawless younger looking, line free skin, without breaking the bank.
This tool also makes your current skincare products 110 times more effective.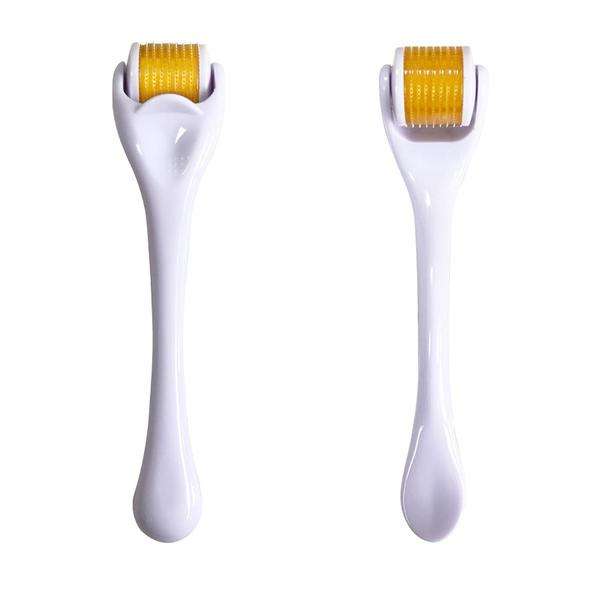 Introducing the Dermaplump Dermaroller
Get Rolling!
Our Dermaroller contains 540 titanium micro needles. Roll it on your face and don't worry, there is zero pain and zero blood. It will give you a tingling sensation and that's a good thing. Our Dermaplump Dermaroller will create tiny holes in the top layer of your skin. This induces the natural production of collagen in your skin (meaning you stay younger for longer). What you probably didn't know is the top layer of your skin can't actually absorb collagen, which is where your Dermaplump Dermaroller comes in and ensures you absorb the Collagen, Hyaluronic Acid & Pro Retinol A in all of our 24 Carat Gold Masks.
You wear Gold on your wrists, fingers and ears, now wear it on your face
Our 24 Carat Gold Collagen Face, Eye and Lip masks have been specifically formulated to give your skin the love and attention it deserves. They contain all of the ingredients, from Marine Collagen to Pro Retinol A and from Hyaluronic Acid to Nano Gold, which all act to give you youthful skin for longer. As we age, skin moisture can drop significantly, which makes the skin lose elasticity and expose the signs of ageing on the skin. Hyaluronic acid plays a critical role in skin health with its unique ability to hold in moisture (1000 ml of water per gram of hyaluronic acid). Pro Retinol A stimulates the production of new skin cells and helps to rejuvinate the skin. Read below to discover the benefits of Gold on the skin.
"I come home from work & pamper myself" -Tiffany Brien, Model & Influencer-
I am very into skincare and once upon a time, didn't have perfect skin, but I'm slowly getting there by taking great care and investing in the best products. I use the Dermaplump Dermaroller and their 24 Carat Gold Masks. The process is using the roller and following with your desired mask (their
complexion collection
has them all).
The dermaroller (which doesn't hurt in the slightest or draw any blood) triggers the skins ability to naturally produce Collagen which fills in lines and wrinkles and reduces blemishes and scars. I follow that with a 24 Carat Gold Collagen Facemask with Hyaluronic Acid and Pro Retinol A, not to mention pure goldm which improve the skin leaving it looking and feeling delicious.
PRO TIP: Using the roller and lip mask gives your lips a natural plump.
I'm really impressed with this home treatment as I don't always have time to go to a spa to spruce myself up, not to mention how pricey they can be. With Dermaplump you can come home after a long day and pamper yourself.
After a couple of treatments my skin feels clearer and smoother.
WHAT ARE THE BENEFITS OF GOLD ON THE SKIN
1. Wrinkles, Fine Lines, Spots Can Be Reduced:


To have a clear skin, free from wrinkles & spots is every woman's ultimate desire. Gold can activate the basal cells of the skin which reduces the elasticity of the skin. It thus reduces wrinkles, fine lines, blemishes and marks on the skin, and will make you look younger.


2. Stimulates The Skin Cells:
The ions present in gold help in stimulating the cells, nerves and veins in your body which leads to improved blood circulation. This will increase the metabolism of skin cells and secretion of the waste. Gold can help to stimulate the cells and have a healthy skin.


3. Premature Aging Of The Skin Can Be Prevented:
Dryness of skin can lead to its premature aging. Use of gold can reduce the dryness of skin and helps in increasing the metabolic rate. This would prevent the skin from premature aging.


4. Gold Can Lighten The Complexion:
As we recollect history, it was rumored that one of the beauty regimes that Cleopatra followed was the use of gold. Cleopatra used a gold mask every night to enhance her complexion and keep her skin youthful, glowing and beautiful.

5. Collagen Depletion Is Slowed Down:
Collagen is naturally produced in your body which keeps the body flexible. It is responsible for giving smooth skin and shining hair. The collagen level in the body starts depleting from the age of 25 and this is when you notice the changes on your skin. Skin care with gold can slow down the depletion of collagen level in your skin cells.


Sign up below to receive the latest news and goodies